Remembering Amyjane Brandhagen – 1 Year Later
Today marks 1 year since the murder of 19 year old Amyjane Brandhagen at the TravelLodge Inn in my hometown Pendleton, Oregon. So far as I know, as of today, her murder is still unsolved.
I remember my parents phoning me to tell me the news. I didn't know her. I had never heard of her. I didn't know her family or friends. It was just one of those sad bits of information you get, that happens far too frequently all around the world. I thought of how tragic and sad it was but I didn't know this person, so I went on about my life.
Today a friend of mine posted a video that was made by a friend of Amyjane. A compilation of video's and photo's. Visions of a girl that was vibrant, colorful, and full of life. She lived every single day to its fullest with a smile on her face and a spring in her step. She was herself regardless of what anyone else might think. Her faith in God was complete and unwavering. Someone who loved and cared for others deeply; and I believe would have gone very far in this life if she'd had the chance.
Click the image to view the video below.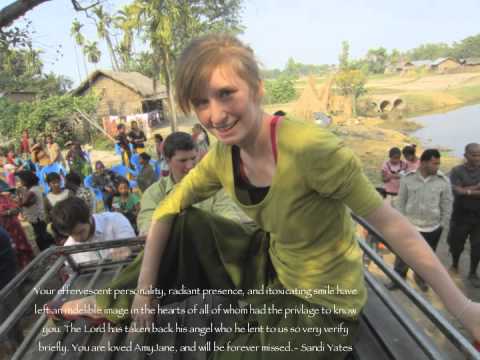 Something about seeing her life, knowing a little more than only the sad facts of her death, it's hit my heart at the core. I may be someone who cries easily at something I find touching, but watching this video and reading more about Amyjane has touched something deeper than that. I've spent the last 2 hours doing a lot of crying. I've been asking God why this could happen to someone who could have done such meaningful things. It seems such an incredible waste.
Amyjane is truly a person we should all strive to be like. In her yearbook she said "I may not be able to change the world, but at least I can be a splash that starts the change." Well Amyjane, you have touched a life, a year after yours has ended. I think we could all learn a great deal from you. Seeing how you lived your life inspires me to keep going even though I feel like my life is a dark and lonely road I've been traveling for too long. You give me light. God truly meant for you to touch others lives. May your memory now, and forever be an inspiration to others.